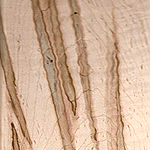 Wormy Maple
Botanical Name: N/A
Family: Aceraceae
Other Common Names: Ambrosia Maple
Uses: N/A
Wormy Maple
General Characteristics: Also known as Ambrosia maple, this comes from regular soft maple trees that have been infested by the ambrosia beetle.
The small beetle bores a network of tunnels and short galleries called cradles. A fungus is responsible for the black and gray streaks that accompany each tunnel and adjacent wood. The streaks add a unique look to this hardwood without affecting its structural integrity. This wood is mostly found in the central part of Eastern United States.
For the specific properties of the lumber, please refer to the Soft Maple lumber page.
Mechanical Properties
Please refer to the Soft Maple lumber page.