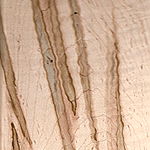 Wormy Curly Maple
Botanical Name: N/A
Family: Aceraceae
Other Common Names: Ambrosia Maple
Uses: N/A
Wormy Curly Maple
General Characteristics: Wormy Curly Maple is the combination of the figuring in Curly Maple along with the worm holes and streaks that are created by the Ambrosia Beetle. We separate these boards aside from our normal Curly and Wormy Maple stock. As is evident in the photograph, the curly figuring produces a wavy pattern to the spalting streaks that are left behind from the presence of the Ambrosia Beetle. As with all figured stock, it is a rare find. We separate it from the regular curly so that our customers looking for curly receive white streak free material. Those looking for material that has more of a unique and exotic feel can choose this material. We have had some customers produce some real interesting pieces that bring out the natural character of the material that really showcase its unique beauty.
For the specific properties of the lumber, please refer to the Soft Maple lumber page.
Mechanical Properties
Please refer to the Soft Maple lumber page.