Case Studies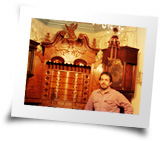 "For 17 years, Bailey Wood Products have played a pivotal role in the growth, diversity and customization of my business. In the world of producing high - end copies of 18th Century masterpieces, my clients are extremely demanding. Therefore, I demand the highest quality in wood. It must be properly dried, flat, and available in various thicknesses with the possibility of acquiring a few hundred feet from them at any time. Bailey gets it right every time. Ninety percent of my shop's production is in curly maple. Bailey consistently has the finest collection of curly maple. Over the years I have purchased lumber from ten other mills/distributors, but no one offers the quality and service that Jeff provides. In addition, for the past 7 years, Bailey glues-up panels of all sizes, from drawer bottoms to table tops. Jeff oversees the picking of the stock to the final dimensioning through the wide belt sander. For me, this is like having another employee without the hassles. Pictured is a copy of a period Philadelphia Secretary that my shop produced with Jeff's lumber."
- Gregg Perry
L'atalier De Restauration
www.greggperrymasterpieces.com
---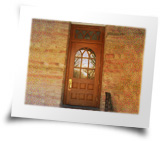 "We are a small custom door shop specializing in architectural millwork for period style applications. Through the last 20 years we have purchased a great deal of lumber from Bailey Wood Products. We appreciate many things about their fine company: quality, flexibility and integrity. It is these attributes which keep us as loyal customers. Below is a project we completed for the New Bethel Church using material from Bailey Wood Products."
- Justin Hendricks
Historic Doors by Hendricks

---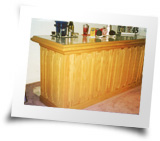 "We would like to recommend Bailey Wood Products, Inc. where you will find:
A very good selection of wood
Professional and knowledgeable staff
Competitive prices
Excellent service for large or small orders
An A-1 company we are proud to recommend"
- Mr. & Mrs. Ken Muth
Cutters 'N' Thing
www.cuttersnthings.com
---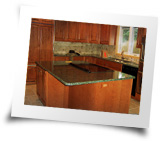 While gathering pictures for our web site, we complimented Ken on his nice work. His reply, "Thanks, it starts with the wood supplier."
- Ken Yeager
Ken Yeager Custom Cabinets
Email: ken59@enter.net
---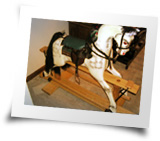 This is the fifth horse done by Mr. Toback for his fifth grandchild and he has plans to make one for his sixth. "It was a long hard time, but everything worked out great. Keep on getting us wood as we need it."
Hand carved rocking horse.
- by Rich Toback