Wood Stair Treads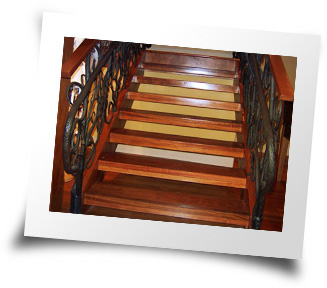 Wood Products manufactures custom glued panels for stair treads and landing treads. We can offer this in a wide variety of species. If you are looking for treads to match the specie of flooring that you are installing we can manufacture treads that are made from the same specie of wood. We have produced many different types of treads over the years. In one application we milled large diameter Poplar logs to produce a tread that was 7" thick by 18" wide for a spiral stair case that went into a reconstruction of a stone castle. We also manufactured tread materials for a newly renovated Jewelry Store that had an open stair case with treads that were 3" thick in Brazilian Cherry. These applications are not the norm, but do provide us a unique challenge.

Currently we have an order to manufacture treads in Walnut to match a Walnut floor that is part of a renovation project. We will do our best to meet our customers needs and provide you with a unique stairway. We deal with several custom stair builders that can take our materials and turn it into a beautifully crafted finished product.

Please contact us with your inquiries and interests in this product.