Distribution: Sporadically distributed throughout the Eastern U.S. Height varies with region: southern trees generally grow tallest with average heights of 80 feet.
General Characteristics: Sassafras heartwood is pale brown to orange brown, resembling ash or chestnut. The narrow sapwood is yellowish white. The wood has a coarse texture and is generally straight-grained. Well-known as an aromatic species.
Weight: Basic specific gravity (ovendry weight/green volume) 0.64; air-dry density 30 pcf.
Working Properties: Sassafras is easily worked and takes a finish well. It glues well and holds screws better than it nails, where pre-boring may be necessary to avoid splitting. It requires care in drying as it has a tendency to check with small movement in performance.
Durability: Sassafras is reported to have little resistance to attack by decay causing organisms and other wood destroying insects.
Preservation: The wood is reported to be resistant to preservative treatment.
---
"At the Quakertown, PA, train station there are several buildings from the old railroad. The main ticket sales area and passenger waiting room were restored after a suspicious fire burned quite a bit of it in May 1989. The cabinet I built was made to reflect the design of original cabinets installed. It was made to supply more storage and is 9' long and 8' 11" tall." Jim Rotenberger of Rotenberger Kitchens (This lumber was purchased to match Chestnut.)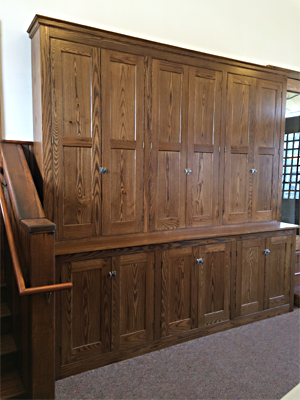 Mechanical Properties
Bending Strength:

Green: 8,750 psi
Dry: 14,050 psi


Modules of Elasticity:
Green: 1,080 @ 1,000 psi
Dry: 1,080 @ 1,000 psi


Maximum Crushing Strength:
Green: 3,665 psi
Dry: 6,900 psi


Drying and Shrinkage:
Sassafras is dimensionally stable after seasoning. Kiln-drying yields satisfactory results, but low initial temperatures are required.