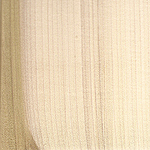 Quartersawn Poplar
Botanical Name: Liriodendron tulipifera
Family: Salicaceae
Other Common Names: American tulipwood, American whitewood, Canary whitewood, Canary wood, Canoe wood, Poplar, Popple, Saddletree, Tulip poplar, Tuliptree, Tulipwood, White poplar, Whitewood, Yellow poplar
Uses: Furniture, turnings, cabinetwork, interiors, mouldings, commercial veneer, toys, broom handles, baskets, foot containers, popsicle sticks, and tongue depressors.
Quartersawn Poplar
General Characteristics: Quartersawn Poplar is not as extraordinary as quartersawn oak may be. It tends to yeild a more straight grain look with some minor figure in some of the boards simply because poplar does not have the "medulary rays" like the oak. With it being quartersawn, it does add a little more stability to the board due to the grain orientation.
Some better uses for quartersawn poplar could be for styles and rails on raised panel doors or for some mouldings that could better utilize a straight grain look.

Please click here to learn more about the Quartersawn Process
Mechanical Properties
Please refer to the Poplar lumber page.
Click here to see the Quartersawn Process.