Custom Edge Glued Panels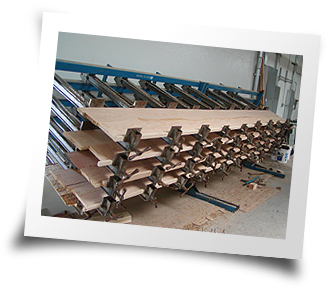 Bailey Wood Products has the capability of producing a wide variety of edge glued panels in all of the hardwoods we have available for many different applications. We can produce custom glued wide panel bar tops and table tops up to a maximum width of 36"in a finish sanded product. We also supply custom stair manufacturers with custom glued stair treads in a wide variety of species of wood. We also produce custom glued skirt boards for stair ways and also baluster and rail stock for custom applications. We recently have glued up an order of squares in Curly Maple that will be used to manufacture bed posts for a high end pencil post beds.

In extreme conditions where lengths longer than 16' are needed we can adjoin two of our panel clamping machines to produce a custom panel up to 24'. We will do our best to meet the needs of our customers within the limits of our machinery and lumber availability. We welcome your inquiries for a quotation on our panel products. We have produced many different items over the years for all kinds of applications.

Please contact us with your inquiries and interests in this product.