Kiln Drying Process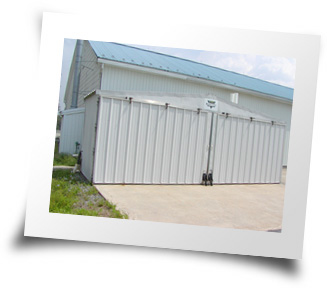 Once the lumber has been sawn it is stacked onto fluted drying sticks to prevent sticker stain in the drying process. Depending on the species and time of year most lumber is air dried prior to going into one of our five Koetter Dry kilns for final drying. During warmer weather conditions, white woods such as Maple, Ash, Poplar and Birch are dried shortly after stickering to maintain that bright white color.
The lumber is then dried in one of our five dry kilns to an equilibrium moisture content of 6% to 8%. The drying process is done at a rate that each species will give up the bound water freely. This rate of drying varies from specie to specie and also lengthens with increased thickness of the lumber. Prior to removing the lumber from the kiln chamber it is conditioned. This process equalizes the moisture gradient between the core of the piece and the outside shell. This process produces lumber that is stress free and nice to machine and works well. This is a must for fine woodworking projects.
Upon completion of drying, the lumber is removed from the kiln and is sorted for grade and width. At this time we mark the net board footage on the face of each piece. This is done for inventory control and also to let each customer know the net measurement of each piece they are purchasing. Items not stored in the retail bin are tallied and bundled for storage in our warehouse.