Custom Glued Products
Bailey Wood Products has the capability of producing a wide variety of glued panels in all of the hardwoods we have available for many different applications.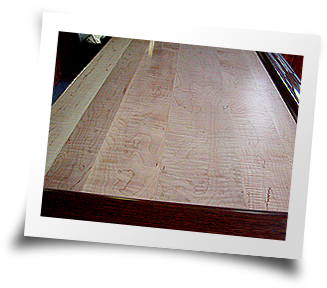 Solid Wood Countertops and Bar Tops - Bailey Wood Products manufactures custom glued solid wood counter tops and table tops. Many of these have been used in the kitchen as a work surface. Others have been used for custom bar tops or table tops.
We are capable of gluing and finishing these pieces up to a width of 36".
Most common species used is Maple. However, we have constructed these in other woods such as Cherry, Walnut, Mahogany, and Ash. We recently constructed a custom top in 2" thick Cherry that was 24" wide and had a finished length of 16 feet.
There are two methods of construction for these tops. The first method is done by joining the edges of the 2" stock to produce a wide panel that exhibits the natural grain of the wood. The second method produces a butcher block appearance. The butcher block design is manufactured by gluing strips of material together with the edge of the piece being the face of the finished product. This produces a top that is more durable to wear by orienting the edge grain of the wood to the face of the finished piece. These tops are produced on a custom basis.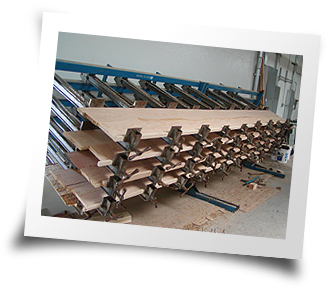 Glued Panels - We can produce custom glued for wide shelving, raised panel doors, small table tops, head boards, etc. We can usually produce panels up to 16' in length with a max of 36" wide. The thickness of panels can range from 1/4" up to 2" depending the the species and availability of stock.
In extreme conditions where lengths longer than 16' are needed we can adjoin a few of our panel clamping machines to produce a custom panel up to 24'. We will do our best to meet the needs of our customers within the limits of our machinery and lumber availability. We welcome your inquiries for a quotation on our panel products.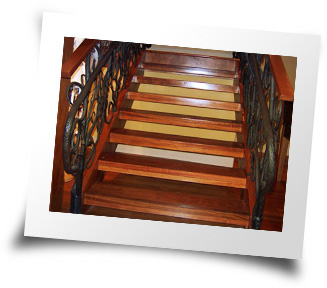 Solid Wood Stair Treads- Bailey Wood Products manufactures custom glued panels for stair treads and landing treads. We can offer this in a wide variety of species. If you are looking for treads to match the specie of flooring that you are installing we can manufacture treads that are made from the same specie of wood. We have produced many different types of treads over the years. In one application we milled large diameter Poplar logs to produce a tread that was 7" thick by 18" wide for a spiral stair case that went into a reconstruction of a stone castle. We also manufactured tread materials for a newly renovated Jewelry Store that had an open stair case with treads that were 3" thick in Brazilian Cherry. These applications are not the norm, but do provide us a unique challenge.
Please contact us with your inquiries and interests in this product.