Custom Millwork Process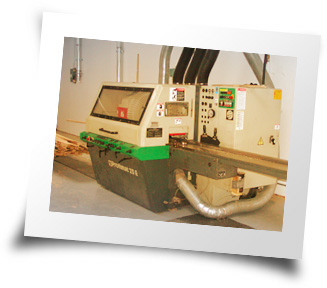 We offer further custom millwork processing of our kiln dried hardwoods in our mill shop. Our newly installed helical cutter head in our 24" planer does a superb job of surfacing the most figured hardwoods. We can also straight edge your material on one or two edges, and also rip to specific widths if desired on our laser guided rip saw. We also recently installed a vertical band resaw for cutting material thinner than one inch. This has a capability of resawing up to 12" in width. Our 36" Wide Belt Sander can also be used to produce a finely sanded finish on your selected material. We also have a glue rack that allows us to make glued panels and parts for a variety of applications up to 16' and adjusted for 24' under special situations.
Molding capabilities are a new feature at Bailey Wood Products. We have a 5 head Weinig molder capable of producing a wide variety of moldings as well as flooring, paneling, log siding and wainscoting in any hardwood. Please view our catalog of profiles. If you do not see one that fits your needs we have a tool room on site that can custom grind a cutter to make any profile you might need.