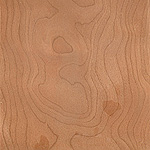 Curly Cherry
Botanical Name: N/A
Family: Rosaceae
Other Common Names: N/A
Uses: high end and period piece furniture, cabinets, interior millwork, musical instruments, paneling, flooring
Curly Cherry
General Characteristics: Curly cherry does not have the same type of figure as curly maple and it is very difficult to find outstanding figure.
As with any figured wood you have varying degrees of figure...some good, some better and the best. This is especially true in curly cherry. Quality figure appears in less than 2% of all the cherry trees harvested.
For the specific properties of the lumber, please refer to the Black Cherry lumber page.
Mechanical Properties
Please refer to the Appalachian Cherry lumber page.