Custom Glued Countertops and Bar Tops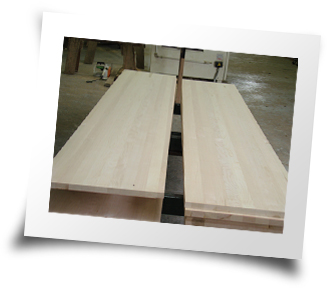 Bailey Wood Products manufactures custom glued solid wood countertops and table tops. Many of these have been used in the kitchen as a work surface. Others have been used for custom bar tops or table tops.

We are capable of gluing and finishing these pieces up to a width of 36".
Most common species used is Maple. However, we have constructed these in other woods such as Cherry, Walnut, Mahogany, and Ash. We recently constructed a custom top in 2" thick Cherry that was 24" wide and had a finished length of 16 feet.

There are two methods of construction for these tops. The first method is done by joining the edges of the 2" stock to produce a wide panel that exhibits the natural grain of the wood. The second method produces a butcher block appearance. The butcher block design is manufactured by gluing strips of material together with the edge of the piece being the face of the finished product. This produces a top that is more durable to wear by orienting the edge grain of the wood to the face of the finished piece. These tops are produced on a custom basis.

Please contact us with your inquiries and interests in this product.